Meever LATAM produces and stocks cold formed and cold rolled sheet piling. Our standard delivery program contains OMEGA sections, U-sections and Z-sections.
For datasheets please scroll down.
Our sheet piles are available in thicknesses from 4 mm (light) up to 15 mm (heavy) in lengths up to 24 meters or longer on request.
Meever LATAM cold formed sheet piles are custom made. We design and produce according to our clients specific demands and wishes. The dimensions, weight and technical specifications of these sheet piles match the exact specifications of the building- and project plans.
Main applications are small retaining walls, temporary and permanent cofferdams with low requirements in water tightness, anchor screens of quay walls, reinforcement of dykes and river embankments.
All Meever LATAM cold formed sheet piles are produced in a refined manufacturing facility and are equipped with high quality precision interlocks. Meever LATAM precision piling is the best and most economical solution for all your sheet piling projects.
Advantages of cold formed and cold rolled sheet piling:
Less material = lower weight per m²
Larger effective width = less interlocks
Fewer sheet piles per wall = Less handling
Suitable for smaller quantities and projects
Metric Units
Imperial Units
Cold formed sheet piling
MZ
Do
Not
Use
First
Row
Section
Elastic Section Modulus
Width
Weight
Height
Thickness
Moment of Inertia
Single Pile
Wall
Wᵧ
B
h
t
Iᵧ
cm³/m'
mm
kg/m
kg/m²
mm
mm
cm⁴/m'
MZ 5-850
656
850
42,8
50,4
340
5
11.160
MZ 6-800
638
800
48,5
62
300
6
9.505
MZ 7-850
714
850
51,3
60,6
340
6
12.034
MZ 7-725
730
725
45
60,4
300
6
10.727
MZ 8-725
846
725
52
71,7
271
7
11.540
MZ 12-770
1.245
770
72,6
94
344
8,5
21.430
MZ 12-850
1.205
850
44,3
75,3
420
7
24.651
MZ 13-770
1.300
770
76,1
99
344
9
22.360
MZ 13-850
1.318
850
73,1
86
400
8
26.360
MZ 14-770
1.355
770
79,5
103
345
9,5
23.300
MZ 17-700
1.730
700
73,1
104,4
420
8,5
36.330
MZ 18-700
1.800
700
76,5
109
420
9
37.800
MZ 18-850
1.805
850
85,9
101,1
480
9
43.335
MZ 19-750
1.944
750
80,9
107,8
460
9
44.718
MZ 20-700
1.945
700
83,3
119
421
10
40.950
MZ 20-850
2.000
850
96
112,9
470
10
46.862
MZ 24-700
2.430
700
95,7
136,7
459
11,2
55.768
MZ 26-700
2.600
700
102,9
147
460
12,2
59.800
MZ 28-700
2.760
700
110
157
440
13,2
63.620
MZ 28-725
2.800
725
94,9
130,9
550
10
75.965
MZ 33-700
3.285
700
76,7
163
500
12
82.929
MZ 36-700
3.600
700
118,6
169,4
520
12,5
89.668
MZ 37-700
3.710
700
124,5
177,8
499
12,5
92.415
MZ 39-700
3.905
700
133
190
560
13,5
97.500
MZ 42-750
4.231
750
141,6
188,8
550
13
116.350
MZ 46-580
4.600
580
133
229
540
15
110.465
MZ 48-750
4.805
750
172,4
229,8
520
15
124.921
MZ 50-580
5.020
580
146,8
253
580
16
121.070
Do
Not
Use
First
Row
Section
Elastic Section Modulus
Width
Weight
Height
Thickness
Moment of Inertia
Single Pile
Wall
Wᵧ
B
h
t
Iᵧ
in³/ft
in
lbs/ft
lbs/ft²
in
in
in⁴/ft
MZ 5-850
12,2
33,46
28,76
10,32
13,39
0,197
81,7
MZ 6-800
11,9
31,5
32,59
12,7
11,81
0,236
69,6
MZ 7-850
13,3
33,46
34,48
12,41
13,39
0,236
88,1
MZ 7-725
13,6
28,54
30,24
12,37
11,81
0,236
78,6
MZ 8-725
15,7
28,54
34,95
14,69
10,67
0,276
84,5
MZ 12-770
23,2
30,31
48,79
19,25
13,54
0,335
156,9
MZ 12-850
22,4
33,46
29,77
15,42
16,54
0,276
180,5
MZ 13-770
24,2
30,31
51,14
20,28
13,54
0,354
163,7
MZ 13-850
24,5
33,46
49,13
17,62
15,75
0,315
193,0
MZ 14-770
25,2
30,31
53,43
21,1
13,58
0,374
170,6
MZ 17-700
32,2
27,56
49,13
21,38
16,54
0,335
266,0
MZ 18-700
33,5
27,56
51,41
22,33
16,54
0,354
276,8
MZ 18-850
33,6
33,46
57,73
20,71
18,9
0,354
317,3
MZ 19-750
36,2
29,53
54,37
22,08
18,11
0,354
327,5
MZ 20-700
36,2
27,56
55,98
24,38
16,57
0,394
299,9
MZ 20-850
37,2
33,46
64,52
23,13
18,5
0,394
343,2
MZ 24-700
45,2
27,56
64,31
28
18,07
0,441
408,4
MZ 26-700
48,4
27,56
69,15
30,11
18,11
0,480
437,9
MZ 28-700
51,3
27,56
73,92
32,16
17,32
0,520
465,9
MZ 28-725
52,1
28,54
63,78
26,81
21,65
0,394
556,3
MZ 33-700
61,1
27,56
51,55
33,39
19,69
0,472
607,3
MZ 36-700
67,0
27,56
79,7
34,7
20,47
0,492
656,6
MZ 37-700
69,0
27,56
83,67
36,42
19,65
0,492
676,7
MZ 39-700
72,6
27,56
89,38
38,92
22,05
0,531
714,0
MZ 42-750
78,7
29,53
95,16
38,67
21,65
0,512
852,0
MZ 46-580
85,6
22,83
89,38
46,91
21,26
0,591
808,9
MZ 48-750
89,4
29,53
115,86
47,07
20,47
0,591
914,8
MZ 50-580
93,4
22,83
98,66
51,82
22,83
0,630
886,6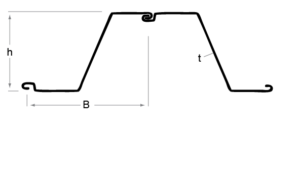 Cold formed sheet piling
OMEGA
Do
Not
Use
First
Row
Section
Elastic Section Modulus
Width
Weight
Height
Flange Thickness
Moment of Inertia
Coating Area
Single Pile
Wall
Wᵧ
B
h
t
Iᵧ
A
cm³/m'
mm
kg/m
kg/m²
mm
mm
cm⁴/m'
m²/m'
IBO 264-4
264
1.017
40
39,3
160
4
2.128
2,26
IBO 434-4
434
1.661
64
38,6
250
4
5.649
2,29
IBO 619-4
619
1.540
64
41,6
350
4
10.926
2,47
IBO 448-5
448
1.513
72
47,6
205
5
4.608
2,25
IBO 462-5
462
1.504
72
47,9
215
5
5.044
2,26
IBO 518-5
518
1.651
80
48,2
255
5
7.035
2,3
IBO 619-5
619
1.643
80
48,7
300
5
9.747
2,31
IBO 708-5
708
1.558
80
51,3
315
5
11.413
2,44
IBO 720-5
720
1.365
72
52,7
325
5
11.724
2,49
IBO 781-5
781
1.330
72
54,1
360
5
14.118
2,56
IBO 867-5
867
1.492
80
53,6
410
5
17.804
2,55
IBO 541-6
541
1.510
86,4
57,2
220
6
6.025
2,25
IBO 616-6
616
1.477
86,4
58,5
255
6
7.897
2,3
IBO 689-6
689
1.443
86,4
59,9
275
6
9.538
2,37
IBO 788-6
788
1.380
86,4
62,6
320
6
13.009
2,46
IBO 790-6
790
1.550
96
61,9
300
6
12.462
2,45
IBO 835-6
835
1.363
86,4
63,4
325
6
13.721
2,49
IBO 973-6
973
1.494
96
64,3
360
6
17.715
2,54
IBO 1052-6
1.052
1.471
96
65,3
410
6
21.609
2,58
IBO 1149-6
1.149
1.380
96
69,6
425
6
25.317
2,75
IBO 1245-6
1.245
1.354
96
70,9
425
6
26.474
2,81
IBO 733-7
733
1.625
112
68,9
260
7
9.737
2,34
IBO 764-7
764
1.415
100,8
71,2
259
7
9.689
2,4
IBO 797-7
797
1.425
100,8
70,7
280
7
11.192
2,39
IBO 833-7
833
1.600
112
70
280
7
11.976
2,38
IBO 846-7
846
1.403
100,8
71,8
290
7
12.290
2,42
IBO 935-7
935
1.500
112
74,7
300
7
14.733
2,53
IBO 1319-7
1.319
1.400
112
80
400
7
26.413
2,71
IBO 1350-7
1.350
1.385
112
80,9
405
7
27.360
2,74
IBO 1438-7
1.438
1.351
112
82,9
430
7
30.932
2,81
IBO 512-8
512
1.222
96
78,6
160
8
4.105
2,29
IBO 544-8
544
1.528
115,2
75,4
170
8
4.636
2,23
IBO 582-8
582
1.675
128
76,4
175
8
5.442
2,27
IBO 617-8
617
1.186
96
80,9
185
8
5.730
2,36
IBO 848-8
848
1.600
128
80
290
8
13.285
2,38
IBO 878-8
878
1.375
115,2
83,8
290
8
13.016
2,47
IBO 928-8
928
1.568
128
81,6
290
8
13.758
2,42
IBO 956-8
956
1.362
115,2
84,7
300
8
14.876
2,5
IBO 978-8
978
1.314
115,2
87,7
300
8
16.003
2,59
IBO 1090-8
1.090
1.540
128
83,1
345
8
18.900
2,47
IBO 1217-8
1.217
1.489
128
86
325
8
19.814
2,55
IBO 1310-8
1.310
1.470
128
87,1
360
8
23.620
2,59
IBO 1492-8
1.492
1.330
128
96,2
400
8
30.953
2,86
IBO 1607-8
1.607
1.357
128
94,3
425
8
34.315
2,8
IBO 1805-8
1.805
1.278
128
100,2
450
8
52.106
2,97
IBO 1225-9
1.225
1.338
129,6
96,9
315
9
19.303
2,54
IBO 1483-9
1.483
1.430
144
100,7
420
9
33.442
2,66
IBO 1757-9
1.757
1.352
144
106,5
420
9
37.667
2,81
IBO 1814-9
1.814
1.346
144
107
425
9
38.577
2,82
IBO 1922-9
1.922
1.303
144
110,5
430
9
41.339
2,92
IBO 655-10
655
1.435
144
100,3
165
10
5.723
2,65
IBO 1383-10
1.383
993
120
120,8
300
10
21.039
2,82
IBO 1424-10
1.424
1.525
160
104,9
350
10
24.990
2,49
IBO 2032-10
2.032
1.340
160
119,4
440
10
44.717
2,84
Do
Not
Use
First
Row
Section
Elastic Section Modulus
Width
Weight
Height
Flange Thickness
Moment of Inertia
Coating Area
Single Pile
Wall
Wᵧ
B
h
t
Iᵧ
A
in³/ft
in
lbs/ft
lbs/ft²
in
in
in⁴/ft
ft/ft²
IBO 264-4
4,9
40,04
26,88
8,05
6,3
0,157
15,6
7,41
IBO 434-4
8,1
65,39
43,01
7,91
9,84
0,157
41,4
7,51
IBO 619-4
11,5
60,63
43,01
8,52
13,78
0,157
80,0
8,1
IBO 448-5
8,3
59,57
48,39
9,75
8,07
0,197
33,7
7,38
IBO 462-5
8,6
59,21
48,39
9,81
8,46
0,197
36,9
7,41
IBO 518-5
9,6
65
53,76
9,87
10,04
0,197
51,5
7,55
IBO 619-5
11,5
64,69
53,76
9,98
11,81
0,197
71,4
7,58
IBO 708-5
13,2
61,34
53,76
10,51
12,4
0,197
83,6
8,01
IBO 720-5
13,4
53,74
48,39
10,79
12,8
0,197
85,9
8,17
IBO 781-5
14,5
52,36
48,39
11,08
14,17
0,197
103,4
8,4
IBO 867-5
16,1
58,74
53,76
10,98
16,14
0,197
130,4
8,37
IBO 541-6
10,1
59,45
58,06
11,72
8,66
0,236
44,1
7,38
IBO 616-6
11,5
58,15
58,06
11,98
10,04
0,236
57,8
7,55
IBO 689-6
12,8
56,81
58,06
12,27
10,83
0,236
69,9
7,78
IBO 788-6
14,7
54,33
58,06
12,82
12,6
0,236
95,3
8,07
IBO 790-6
14,7
61,02
64,52
12,68
11,81
0,236
91,3
8,04
IBO 835-6
15,5
53,66
58,06
12,99
12,8
0,236
100,5
8,17
IBO 973-6
18,1
58,82
64,52
13,17
14,17
0,236
129,7
8,33
IBO 1052-6
19,6
57,91
64,52
13,38
16,14
0,236
158,2
8,46
IBO 1149-6
21,4
54,33
64,52
14,26
16,73
0,236
185,4
9,02
IBO 1245-6
23,2
53,31
64,52
14,52
16,73
0,236
193,9
9,22
IBO 733-7
13,6
63,98
75,27
14,11
10,24
0,276
71,3
7,68
IBO 764-7
14,2
55,71
67,74
14,58
10,2
0,276
71,0
7,87
IBO 797-7
14,8
56,1
67,74
14,48
11,02
0,276
82,0
7,84
IBO 833-7
15,5
62,99
75,27
14,34
11,02
0,276
87,7
7,81
IBO 846-7
15,7
55,24
67,74
14,71
11,42
0,276
90,0
7,94
IBO 935-7
17,4
59,06
75,27
15,3
11,81
0,276
107,9
8,3
IBO 1319-7
24,5
55,12
75,27
16,39
15,75
0,276
193,4
8,89
IBO 1350-7
25,1
54,53
75,27
16,57
15,94
0,276
200,4
8,99
IBO 1438-7
26,8
53,19
75,27
16,98
16,93
0,276
226,5
9,22
IBO 512-8
9,5
48,11
64,52
16,1
6,3
0,315
30,1
7,51
IBO 544-8
10,1
60,16
77,42
15,44
6,69
0,315
34,0
7,32
IBO 582-8
10,8
65,94
86,02
15,65
6,89
0,315
39,9
7,45
IBO 617-8
11,5
46,69
64,52
16,57
7,28
0,315
42,0
7,74
IBO 848-8
15,8
62,99
86,02
16,39
11,42
0,315
97,3
7,81
IBO 878-8
16,3
54,13
77,42
17,17
11,42
0,315
95,3
8,1
IBO 928-8
17,3
61,73
86,02
16,71
11,42
0,315
100,8
7,94
IBO 956-8
17,8
53,62
77,42
17,35
11,81
0,315
108,9
8,2
IBO 978-8
18,2
51,73
77,42
17,96
11,81
0,315
117,2
8,5
IBO 1090-8
20,3
60,63
86,02
17,02
13,58
0,315
138,4
8,1
IBO 1217-8
22,6
58,62
86,02
17,62
12,8
0,315
145,1
8,37
IBO 1310-8
24,4
57,87
86,02
17,84
14,17
0,315
173,0
8,5
IBO 1492-8
27,8
52,36
86,02
19,71
15,75
0,315
226,7
9,38
IBO 1607-8
29,9
53,43
86,02
19,32
16,73
0,315
251,3
9,19
IBO 1805-8
33,6
50,31
86,02
20,52
17,72
0,315
381,6
9,74
IBO 1225-9
22,8
52,68
87,1
19,85
12,4
0,354
141,4
8,33
IBO 1483-9
27,6
56,3
96,77
20,63
16,54
0,354
244,9
8,73
IBO 1757-9
32,7
53,23
96,77
21,81
16,54
0,354
275,8
9,22
IBO 1814-9
33,7
52,99
96,77
21,92
16,73
0,354
282,5
9,25
IBO 1922-9
35,8
51,3
96,77
22,63
16,93
0,354
302,7
9,58
IBO 655-10
12,2
56,5
96,77
20,54
6,5
0,394
41,9
8,69
IBO 1383-10
25,7
39,09
80,65
24,74
11,81
0,394
154,1
9,25
IBO 1424-10
26,5
60,04
107,53
21,49
13,78
0,394
183,0
8,17
IBO 2032-10
37,8
52,76
107,53
24,46
17,32
0,394
327,5
9,32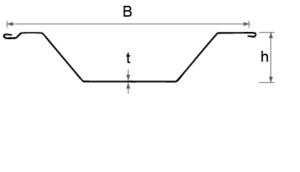 Cold formed sheet piling
MKL
Do
Not
Use
First
Row
Section
Elastic Section Modulus
Width
Weight
Height
Thickness
Moment of Inertia
Single Pile
Wall
Wᵧ
B
h
t
Iᵧ
cm³/m'
mm
kg/m
kg/m²
mm
mm
cm⁴/m'
MKL 3-4
302
700
32,4
46,3
150
4
2.209
MKL 3-5
374
700
40,4
57,7
152
5
2.753
MKL 3-6
455
700
48,5
69,3
154
6
3.369
MKL 3-7
540
700
56,3
80,4
156
7
4.004
MKL 3-8
600
700
64,2
88,9
158
8
4.460
MKL 3-9
680
700
72
102,9
160
9
5.120
MKL 4-5
774
710
49,5
69,7
294
5
10.920
MKL 4-6
933
710
57,9
82,8
296
6
13.530
MKL 4-7
1.080
710
67,3
96,2
298
7
15.701
MKL 4-8
1.230
710
76,7
109,6
300
8
17.896
MKL 4-9
1.380
710
85,6
122,3
300
9
20.896
Do
Not
Use
First
Row
Section
Elastic Section Modulus
Width
Weight
Height
Thickness
Moment of Inertia
Single Pile
Wall
Wᵧ
B
h
t
Iᵧ
in³/ft
in
lbs/ft
lbs/ft²
in
in
in⁴/ft
MKL 3-4
5,62
27,56
21,77
9,48
5,91
0,157
16,18
MKL 3-5
6,96
27,56
27,15
11,82
5,98
0,197
20,16
MKL 3-6
8,46
27,56
32,59
14,2
6,06
0,236
24,67
MKL 3-7
10,04
27,56
37,84
16,47
6,14
0,276
29,32
MKL 3-8
11,16
27,56
43,15
18,21
6,22
0,315
32,66
MKL 3-9
12,65
27,56
48,39
21,08
6,3
0,354
37,49
MKL 4-5
14,4
27,95
33,27
14,28
11,57
0,197
79,97
MKL 4-6
17,35
27,95
38,91
16,96
11,65
0,236
99,08
MKL 4-7
20,09
27,95
45,23
19,71
11,73
0,276
114,98
MKL 4-8
22,88
27,95
51,55
22,45
11,81
0,315
131,05
MKL 4-9
25,67
27,95
57,53
25,05
11,81
0,354
153,02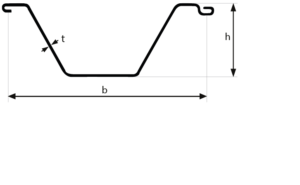 Cold formed sheet piles
MSZ
Do
Not
Use
First
Row
Section
Elastic Section Modulus
Width
Weight
Height
Flange Thickness
Moment of Inertia
Coating Area
Single Pile
Wall
Wᵧ
B
h
t
Iᵧ
A
cm³/m'
mm
kg/m
kg/m²
mm
mm
cm⁴/m'
m²/m'
MSZ 14-340 
1.145 
878 
80.5 
91.7 
310 
8.6 
17.968 
2.30 
MSZ 14-350 
1.178 
878 
82.9 
94.4 
310 
8.9 
18.504 
2.30 
MSZ 14-375 
1.257 
878 
88.8 
101.2 
310 
9.5 
19.719 
2.30 
MSZ 15-340 
1.412 
833 
80.5 
96.7 
358 
8.6 
25.607 
2.30 
MSZ 15-350 
1.455 
833 
82.9 
99.5 
358 
8.9 
26.391 
2.30 
MSZ 15-375 
1.554 
833 
88.8 
106.6 
358 
9.5 
28.272 
2.30 
MSZ 16-350 
1.706 
789 
82.9 
105.1 
395 
8.9 
34.119 
2.30 
MSZ 16-375 
1.825 
789 
88.8 
112.6 
395 
9.5 
36.580 
2.30 
MSZ 16-406 
1.976 
789 
96.1 
121.9 
395 
10.3 
39.703 
2.30 
MSZ 17-350 
1.895 
755 
82.9 
109.8 
417 
8.9 
40.061 
2.30 
MSZ 17-375 
2.027 
755 
88.8 
117.7 
417 
9.5 
42.957 
2.30 
MSZ 17-406 
2.194 
755 
96.1 
127.4 
417 
10.3 
46.570 
2.30 
MSZ 18-350 
2.075 
721 
82.9 
115.0 
437 
8.9 
45.893 
2.30 
MSZ 18-375 
2.220 
721 
88.8 
123.2 
437 
9.5 
49.162 
2.30 
MSZ 18-406 
2.403 
721 
96.1 
133.4 
437 
10.3 
53.364 
2.30 
Do
Not
Use
First
Row
Section
Elastic Section Modulus
Width
Weight
Height
Flange Thickness
Moment of Inertia
Coating Area
Single Pile
Wall
Wᵧ
B
h
t
Iᵧ
A
in³/ft
in
lbs/ft
lbs/ft²
in
in
in⁴/ft
ft/ft²
MSZ 14-340 
21.3 
34.56 
54.1 
18.8 
12.20 
0.340 
131.6 
7.54 
MSZ 14-350 
21.9 
34.56 
55.7 
19.3 
12.20 
0.350 
135.5 
7.54 
MSZ 14-375 
23.4 
34.56 
59.7 
20.7 
12.20 
0.375 
144.9 
7.54 
MSZ 15-340 
26.3 
32.79 
54.1 
19.8 
14.11 
0.340 
187.5 
7.54 
MSZ 15-350 
27.1 
32.79 
55.7 
20.4 
14.11 
0.350 
193.3 
7.54 
MSZ 15-375 
28.9 
32.79 
59.7 
21.8 
14.11 
0.375 
207.0 
7.54 
MSZ 16-350 
31.7 
31.05 
55.7 
21.5 
15.54 
0.350 
249.9 
7.54 
MSZ 16-375 
34.0 
31.05 
59.7 
23.1 
15.54 
0.375 
267.9 
7.54 
MSZ 16-406 
36.8 
31.05 
64.6 
25.0 
15.54 
0.406 
290.7 
7.54 
MSZ 17-350 
35.3 
29.71 
55.7 
22.5 
16.43 
0.350 
293.4 
7.54 
MSZ 17-375 
37.7 
29.71 
59.7 
24.1 
16.43 
0.375 
314.6 
7.54 
MSZ 17-406 
40.0 
29.71 
64.6 
26.1 
16.43 
0.406 
341.0 
7.54 
MSZ 18-350 
38.6 
28.38 
55.7 
23.6 
17.20 
0.350 
336.1 
7.54 
MSZ 18-375 
41.3 
28.38 
59.7 
25.2 
17.20 
0.375 
360.0 
7.54 
MSZ 18-406 
44.7 
28.38 
64.6 
27.3 
17.20 
0.406 
390.8 
7.54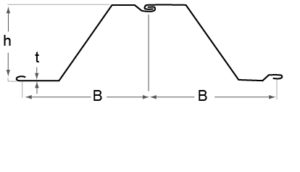 Cold formed sheet piles
MZK
Do
Not
Use
First
Row
Section
Elastic Section Modulus
Width
Weight
Height
Thickness
Moment of Inertia
Single Pile
Wall
Wᵧ
B
h
t
Iᵧ
cm³/m'
mm
kg/m
kg/m²
mm
mm
cm⁴/m'
MZK 785-5
605
785
41,9
53,5
276
5
8.395
MZK 785-6
724
785
50,4
64,1
277
6
10.053
MZK 785-7
836
785
58,4
74,4
278
7
11.657
MZK 785-8
951
785
66,6
84,8
279
8
13.302
MZK 785-9
1.067
785
74,8
95,3
280
9
14.944
MZK 675-5
972
675
41,9
62,6
376
5
18.500
MZK 675-6
1.164
675
50,4
74,4
377
6
22.131
MZK 675-7
1.350
675
58,4
86,5
378
7
25.698
MZK 675-8
1.540
675
66,6
98,7
379
8
29.332
MZK 675-9
1.728
675
74,8
110,8
380
9
32.914
Do
Not
Use
First
Row
Section
Elastic Section Modulus
Width
Weight
Height
Thickness
Moment of Inertia
Single Pile
Wall
Wᵧ
B
h
t
Iᵧ
in³/ft
in
lbs/ft
lbs/ft²
in
in
in⁴/ft
MZK 785-5
11,25
30,91
28,16
10,96
10,87
0,197
61,48
MZK 785-6
13,47
30,91
33,87
13,13
10,91
0,236
73,62
MZK 785-7
15,55
30,91
39,25
15,24
10,94
0,276
85,36
MZK 785-8
17,69
30,91
44,76
17,37
10,98
0,315
97,41
MZK 785-9
19,85
30,91
50,27
19,52
11,02
0,354
109,43
MZK 675-5
18,08
26,57
28,16
12,82
14,8
0,197
135,47
MZK 675-6
21,65
26,57
33,87
15,24
14,84
0,236
162,06
MZK 675-7
25,11
26,57
39,25
17,72
14,88
0,276
188,18
MZK 675-8
28,64
26,57
44,76
20,22
14,92
0,315
214,79
MZK 675-9
32,14
26,57
50,27
22,7
14,96
0,354
241,02
Cold formed sheet piles
VKZ
Do
Not
Use
First
Row
Section
Elastic Section Modulus
Width
Weight
Height
Flange Thickness
Moment of Inertia
Coating Area
Single Pile
Wall
Wᵧ
B
h
t
Iᵧ
A
cm³/m'
mm
kg/m
kg/m²
mm
mm
cm⁴/m'
m²/m'
VKZ 471-5
471
809
40
49,4
230
5
5.421
2,22
VKZ 617-5
617
766
40
52,2
270
5
8.338
2,35
VKZ 644-5
644
766
40
52,2
304
5
9.785
2,35
VKZ 784-5
784
722
40
55,4
355
5
13.136
2,49
VKZ 965-5
965
676
40
59,2
425
5
20.516
2,66
VKZ 699-6
699
792
48
62,7
275
6
9.611
2,27
VKZ 783-6
783
748
48
64,1
305
6
11.939
2,41
VKZ 878-6
878
725
48
66,2
325
6
14.265
2,48
VKZ 1153-6
1.153
655
48
73,2
377
6
21.741
2,75
VKZ 1167-6
1.167
659
48
72,8
405
6
23.626
2,73
VKZ 1246-6
1.246
903
60
66,4
470
6
29.280
2,55
VKZ 491-7
491
794
56
70,5
175
7
4.293
2,27
VKZ 532-7
532
787
56
71,1
185
7
4.923
2,29
VKZ 846-7
846
737
56
75,9
275
7
11.628
2,44
VKZ 921-7
921
727
56
77
306
7
14.095
2,48
VKZ 1078-7
1.078
694
56
80,6
330
7
17.790
2,59
VKZ 1257-7
1.257
665
56
84,3
390
7
24.517
2,71
VKZ 1330-7
1.330
644
56
86,9
378
7
25.130
2,8
VKZ 1201-8
1.201
685
64
93,4
330
8
19.820
2,63
VKZ 1227-8
1.227
683
64
93,6
335
8
20.865
2,64
VKZ 1257-8
1.257
679
64
94,3
350
8
22.000
2,65
VKZ 1481-8
1.481
639
64
100,1
378
8
28.008
2,82
VKZ 1244-9
1.244
700
72
102,9
314
9
19.527
2,57
VKZ 1307-9
1.307
686
72
105
320
9
20.908
2,62
VKZ 1684-9
1.684
630
72
114,3
375
9
31.568
2,86
VKZ 1735-9
1.735
627
72
114,7
395
9
34.270
2,87
VKZ 1771-9
1.771
882
90
102
450
9
39.857
2,61
VKZ 1832-9
1.832
871
90
103,3
450
9
41.228
2,64
VKZ 1349-10
1.349
682
80
117,2
305
10
20.567
2,64
VKZ 1404-10
1.404
677
80
118,1
320
10
22.468
2,66
VKZ 1720-10
1.720
636
80
125,7
360
10
30.964
2,83
VKZ 1929-10
1.929
607
80
131,7
380
10
36.648
2,97
VKZ 2354-10
2.354
808
100
123,8
475
10
55.898
2,85
VKZ 2468-10
2.468
795
100
125,8
500
10
61.702
2,89
VKZ 2628-10
2.628
776
100
128,9
535
10
70.289
2,96
VKZ 3082-10
3.082
715
100
139,8
575
10
88.594
3,22
Do
Not
Use
First
Row
Section
Elastic Section Modulus
Width
Weight
Height
Flange Thickness
Moment of Inertia
Coating Area
Single Pile
Wall
Wᵧ
B
h
t
Iᵧ
A
in³/ft
in
lbs/ft
lbs/ft²
in
in
in⁴/ft
ft/ft²
VKZ 471-5
8,8
31,85
26,88
10,12
9,06
0,197
39,7
7,28
VKZ 617-5
11,5
30,16
26,88
10,69
10,63
0,197
61,1
7,71
VKZ 644-5
12,0
30,16
26,88
10,69
11,97
0,197
71,7
7,71
VKZ 784-5
14,6
28,43
26,88
11,35
13,98
0,197
96,2
8,17
VKZ 965-5
18,0
26,61
26,88
12,13
16,73
0,197
150,2
8,73
VKZ 699-6
13,0
31,18
32,26
12,84
10,83
0,236
70,4
7,45
VKZ 783-6
14,6
29,45
32,26
13,13
12,01
0,236
87,4
7,91
VKZ 878-6
16,3
28,54
32,26
13,56
12,8
0,236
104,5
8,14
VKZ 1153-6
21,5
25,79
32,26
14,99
14,84
0,236
159,2
9,02
VKZ 1167-6
21,7
25,94
32,26
14,91
15,94
0,236
173,0
8,96
VKZ 1246-6
23,2
35,55
40,32
13,6
18,5
0,236
214,4
8,37
VKZ 491-7
9,1
31,26
37,63
14,44
6,89
0,276
31,4
7,45
VKZ 532-7
9,9
30,98
37,63
14,56
7,28
0,276
36,1
7,51
VKZ 846-7
15,7
29,02
37,63
15,55
10,83
0,276
85,2
8,01
VKZ 921-7
17,1
28,62
37,63
15,77
12,05
0,276
103,2
8,14
VKZ 1078-7
20,1
27,32
37,63
16,51
12,99
0,276
130,3
8,5
VKZ 1257-7
23,4
26,18
37,63
17,27
15,35
0,276
179,5
8,89
VKZ 1330-7
24,7
25,35
37,63
17,8
14,88
0,276
184,0
9,19
VKZ 1201-8
22,3
26,97
43,01
19,13
12,99
0,315
145,1
8,63
VKZ 1227-8
22,8
26,89
43,01
19,17
13,19
0,315
152,8
8,66
VKZ 1257-8
23,4
26,73
43,01
19,32
13,78
0,315
161,1
8,69
VKZ 1481-8
27,6
25,16
43,01
20,5
14,88
0,315
205,1
9,25
VKZ 1244-9
23,1
27,56
48,39
21,08
12,36
0,354
143,0
8,43
VKZ 1307-9
24,3
27,01
48,39
21,51
12,6
0,354
153,1
8,6
VKZ 1684-9
31,3
24,8
48,39
23,41
14,76
0,354
231,2
9,38
VKZ 1735-9
32,3
24,69
48,39
23,49
15,55
0,354
251,0
9,42
VKZ 1771-9
32,9
34,72
60,48
20,89
17,72
0,354
291,9
8,56
VKZ 1832-9
34,1
34,29
60,48
21,16
17,72
0,354
301,9
8,66
VKZ 1349-10
25,1
26,85
53,76
24,01
12,01
0,394
150,6
8,66
VKZ 1404-10
26,1
26,65
53,76
24,19
12,6
0,394
164,5
8,73
VKZ 1720-10
32,0
25,04
53,76
25,75
14,17
0,394
226,7
9,28
VKZ 1929-10
35,9
23,9
53,76
26,98
14,96
0,394
268,4
9,74
VKZ 2354-10
43,8
31,81
67,2
25,36
18,7
0,394
409,3
9,35
VKZ 2468-10
45,9
31,3
67,2
25,77
19,69
0,394
451,8
9,48
VKZ 2628-10
48,9
30,55
67,2
26,4
21,06
0,394
514,7
9,71
VKZ 3082-10
57,3
28,15
67,2
28,64
22,64
0,394
648,8
10,56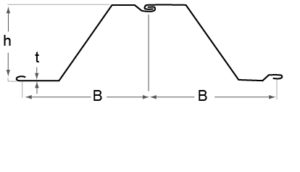 Cold formed sheet piles
MKU
Do
Not
Use
First
Row
Section
Elastic Section Modulus
Width
Weight
Height
Thickness
Moment of inertia
Coating area*
Single Pile
Wall
Wᵧ
B
h
t
Iᵧ
A
cm³/m'
mm
kg/m
kg/m²
mm
mm
cm⁴/m'
m²/m'
MKU 130-3
130
795
24
30,2
120
3
778
2,31
MKU 520-8
520
1.170
96
82,1
185
8
4.811
2,39
MKU 940-8
940
1.531
128
83,6
325
8
15.291
2,48
MKU 1202-8
1.202
1.401
128
91,4
440
8
26.457
2,71
Do
Not
Use
First
Row
Section
Elastic Section Modulus
Width
Weight
Height
Thickness
Moment of inertia
Coating area*
Single Pile
Wall
Wᵧ
B
h
t
Iᵧ
A
in³/ft
in
lbs/ft
lbs/ft²
in
in
in⁴/ft
ft²/ft
MKU 130-3
2,4
31,3
16,13
6,19
4,72
0,118
5,7
7,58
MKU 520-8
9,7
46,06
64,52
16,82
7,28
0,315
35,2
7,84
MKU 940-8
17,5
60,28
86,02
17,12
12,8
0,315
112,0
8,14
MKU 1202-8
22,4
55,16
86,02
18,72
17,32
0,315
193,7
8,89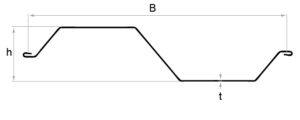 Trench Piles
MKD
Do
Not
Use
First
Row
Section
Elastic Section Modulus
Width
Weight
Height
Thickness
Moment of Inertia
Single Pile
Wall
Wᵧ
B
h
t
Iᵧ
cm³/m'
mm
kg/m
kg/m²
mm
mm
cm⁴/m'
MKD VI/6
182
600
62,5
37,5
78
6
726
MKD VI/8
242
600
83,3
50
80
8
968
Do
Not
Use
First
Row
Section
Elastic Section Modulus
Width
Weight
Height
Thickness
Moment of Inertia
Single Pile
Wall
Wᵧ
B
h
t
Iᵧ
in³/ft
in
lbs/ft
lbs/ft²
in
in
in⁴/ft
MKD VI/6
3,39
23,62
42
7,68
3,07
0,236
5,32
MKD VI/8
4,5
23,62
55,98
10,24
3,15
0,315
7,09